About
A Casual Fine Dining Restaurant
A Local
Gathering Place
In Historic Marietta, Ohio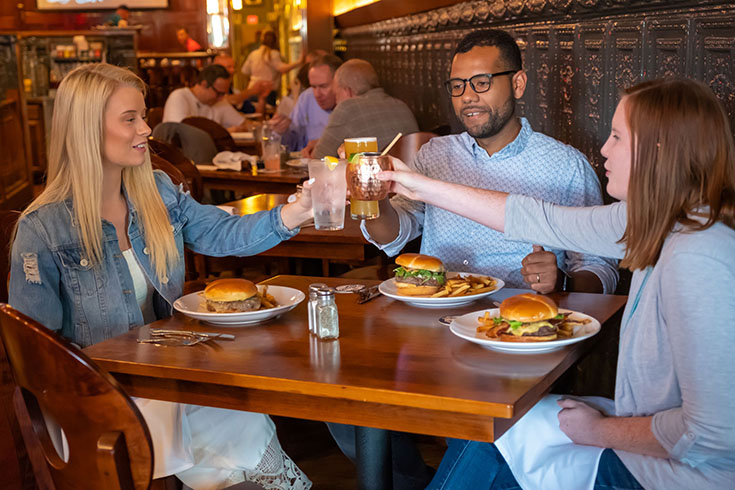 The Galley is quite literally in the center of Historic Marietta and continues to be the hub of its entertainment world. Marietta College students and alumni meet each other for homecoming, graduation, reunions and formals here. Business people hold meetings, client dinners, seminars and banquets with us. Travelers have been delighted with our cuisine and atmosphere. Our beloved locals have turned The Galley into the Mid-Ohio Valley's hot spot for friendly meetings, bridal showers, rehearsal dinners, birthdays, and sometimes "just because".
We are on a culinary mission to provide Marietta, Parkersburg, Williamstown and the surrounding Mid-Ohio Valley with the most interesting and best quality food possible. Our Culinary Director has designed a menu based upon fresh ingredients, quality meats and vegetables, unique flavors and familiar favorites. This is why you'll see the area's best burgers on the same menu as bucatini bolognese. The Galley's culinary perspective sits at the crossroads of neighborhood gastropub and prime steakhouse.
Tapping into the local dining scene takes just that — taps. And guess what, we have 24 of them. We carry over 50 bottled beers including seasonal craft brews, the area's most creative cocktails, and an extensive wine list featuring elite Captain's selections. Three antique bars serve specialty libations, rotating craft brews, domestic beers and aged whiskies! In an effort to keep the newest and best selection for our customers, we host craft brew and wine dinners monthly. These limited ticket evenings pair seasonal beers and wines with multi-course meals and live entertainers for a distinctive culinary experience.